BaitBus-You Broke Hop On The BaitBus 44 min
Baitbuddies - Brian Bonds & Dirk Willis 46 min
BaitBuddies - Brad Cambell & Luke Wyhte 35 min
HotHouse Live with Connor Kline and Lance Luciano 50 min
Men - Big Dicks At School - Learning About Infidelity - Zeb Atlas & Mike De Marko 28 min
MEN - Rod's Fantasy Bobby Clark , Colby Jansen , Andrew Stark , Duncan Black & Rod Daily 22 min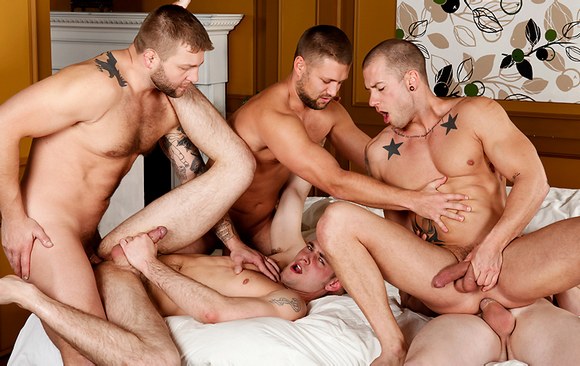 MEN - Str8 To Gay - Turn Me On (Dereck Fox & Marko Lobo) 32 min
Butch Dixon Harley Everett and Fabio Stallone ( 19 min )
Men - The gay office - Law and hoarder (John Magnum & Bryce Star) 23 min.
Dominic Ford - Colby Keller Fucks Jake Steel 17 min
ChaosMen - Vance (Gage Weston) & Zane 22 minutos
Bareback Ou La Guerre Des Sens ( esta en frances no tiene subtitulo )
DIRECTOR: Paul Vecchiali
AÑO: 2006
GÉNERO: Drama
PAÍS: Francia
DURACIÓN: 80 Minutos
IDIOMA: Francés
SINOPSIS
Un cinéfilo se encuentra en una playa en Ramatuelle a su cineasta preferido. Le propone una película que cuenta la aventura dolorosa que es vivir. Los dos hombres tejen las escenas, cada una a su manera.

(Advertencia: Contiene escenas de sexo explícito)


Bears In Heat ( BearFilms )
Release Year: 2007
Studio: BearFilms
Cast: VeniceCub, Andrew Mason, Chaz Richards, Don James, Jeremy Matthews
Genres: bears, oral, anal, orgy
Video language: English
Duration: 1:45:19
Bears of Venice


Year: 2009
Country: USA
Genre: Bears, Chubby, Oral, Anal
Length: 1:23:47
Directed by: Jack Hoffman


Max Summers v. Jordano Monroe
TGS Hairy Beef Jason
Men - Big Dicks At School - Learning About Infidelity - Zeb Atlas & Mike De Marko
Paul Barresi - Grease Daddies (Pacific Sun, 2003) - Chance Caldwell, C. G., Patrick Ives, Steven Richards, Joe Romero, Anthony Sosa, Mark West, Eric York
Gay - William Higgins - Tomas Kukal - STR8HELL_Tomas Kukal & Mad Monk_SPANKING
BrokeStraightBoys - Spencer Todd & Denver Grand
Ex-Military gets fucked in the crowded locker room
BigDaddy - Assistant - Porn Hopeful
BaitBuddies - Brian Bonds & Dirk Willis
bait budies The Big Guy On BaitBus!
Bait Buddies Straight: Brad Cambell Bait: Luke Wyhte
{
OutInPublic: This Guy Loves it Raw in the Ass

CockSureMen - Bronson Gates and Parker London
Duration: 26:20
Ko Ryu
Last Man Standing
Orso Orfeo & Manuel Melia
Jardel Barrios